Rhoda Taylor

West Cork Painter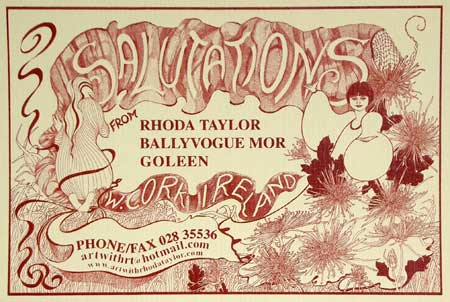 Rhoda Taylor born in London many
moons ago.
Arrived in West Cork Ireland in 1997
and plan to work and stay until the
end.
Owned a hand silk screen business
"Timsbury Vale Studios" in the 80s
producing "WILD STALLION" print
on pillowcases and T shirts which had
a fantastic write-up in the Financial
Times.
Exhibited paintings in France, Japan,
Malta, Ireland, England.
Won various awards over the years
with artwork.
Very detailed penwork speciality -
flowers and plants penned from life.
Commissions always welcome be they
Portraits, Landscapes, Seascapes,
Fantasy.