Trevor Spalding

WEST CORK CERAMIC ARTIST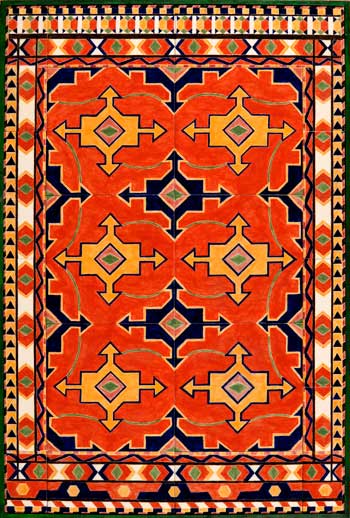 "Agadez Crosses" 24" x 16" (62cm x 41cm)
I came to Ireland in 1978 to teach at University College Cork and have lived in Cork city and West
Cork ever since. My interest in ceramic tiles has been strongly influenced by designs found in
oriental rugs and carpets from Persia (Iran), Kazakhstan, Afghanistan, and the Indo-Pakistan border,
and in woven mats from Africa. I was initially attracted to these subjects by the geometric motifs
and use of strong colours derived from natural sources. Many of the motifs in the carpets could be
related to the courses on symmetry that I taught in UCC.

Each of my pieces is an asssembly of individually hand-painted tiles. Each piece can contain between
24 and 120 tiles and can be framed like a picture, or permanently mounted on a wall. The sites may
include places that can get very hot such as conservatories, or places that get wet such as
bathrooms where conditions are detrimental to paintings on paper or canvas etc. My pieces often
have features which reflect details which are found in hand-made rugs, such as changes in colour
which occur when a new wool batch is added as the rug is made, see "Kazak 2" for example.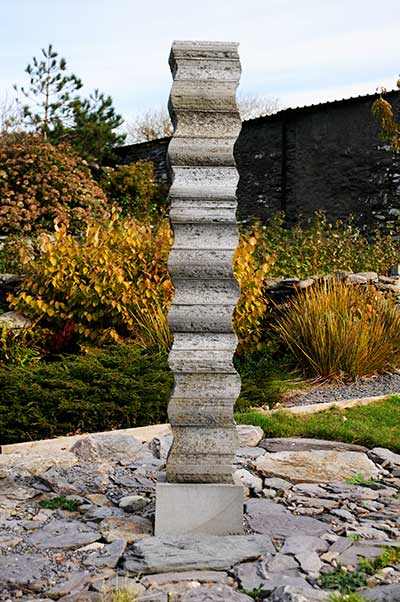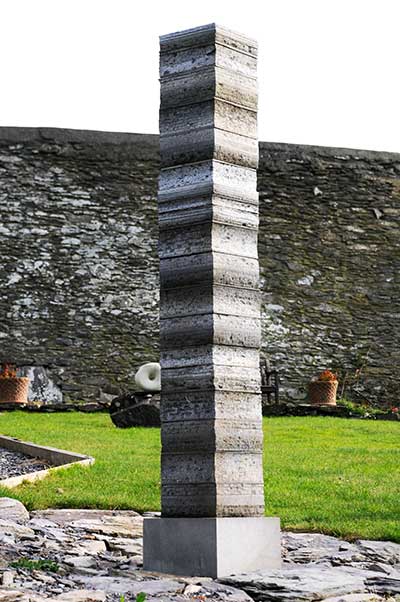 "Column" Kilkenny limesone 212 cm x 32cm x 32cm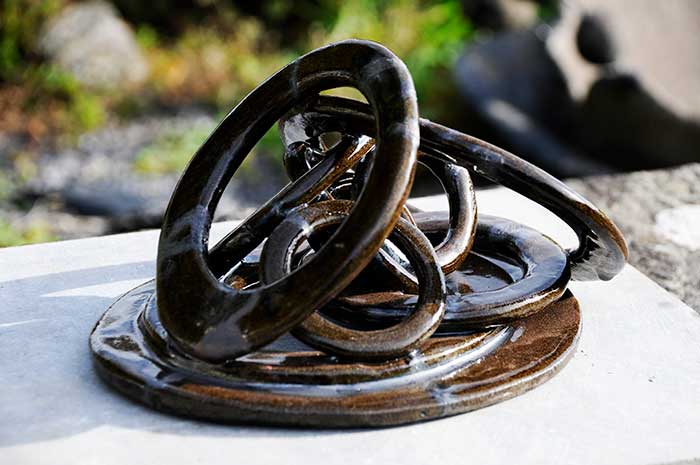 "Circles and Ellipses" Glazed clay 22cm x 20 cm x 24cm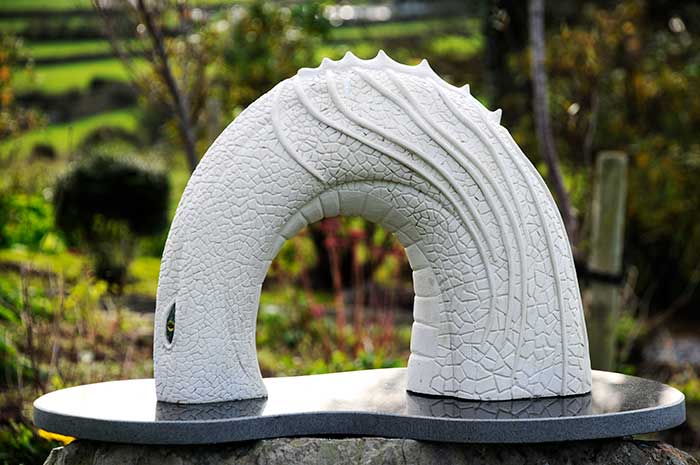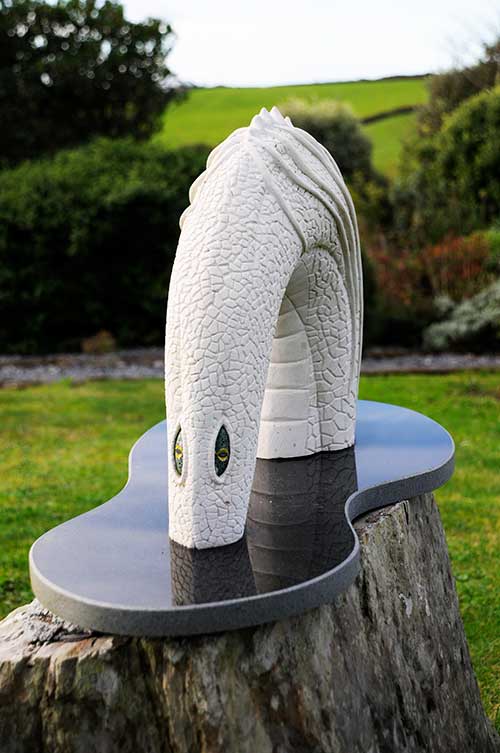 "Grendel Rising" Portland stone 45cm x 36cm x 12 cm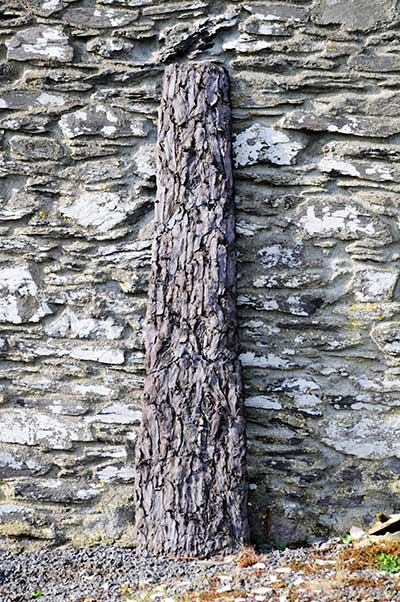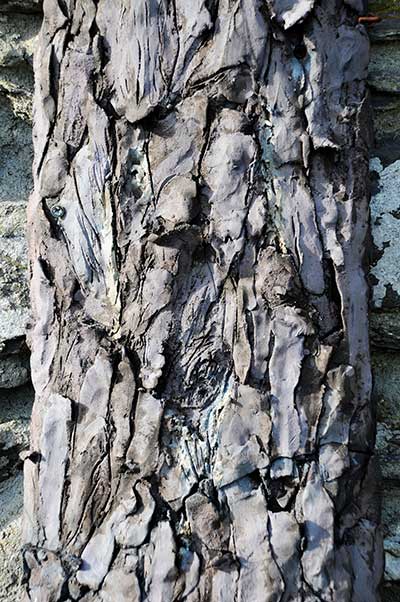 "Tree Form 2 (Italy) Black clay 160cm x 40 (22)cm x 7cm (Detail on right)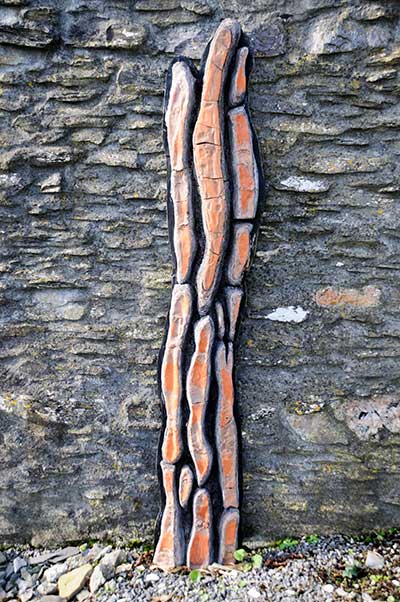 "Tree Form 1 (Italy)" Layered clay 180cm x 30cm x 7cm







"Tetouan Panels" 26" x 10" (66cm x 25cm) Two of eight panels.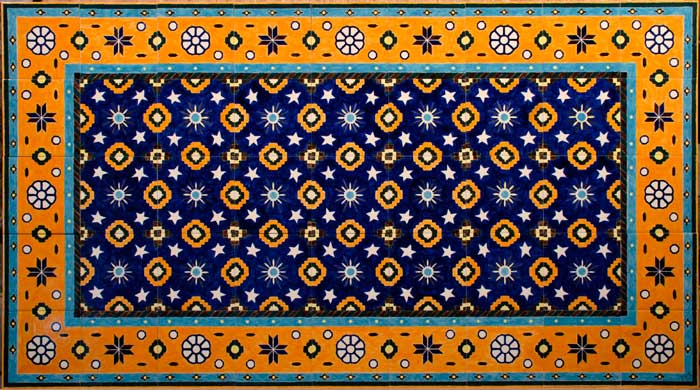 "Varamin 1 Dark Night with Stars" Ceramic tiles 54" x 30" (137.5cm x 76.5cm)

"Kazak 2. Six Fields"
Ceramic tiles
18" x 24" (46cm x 61cm)



"Kazak 1. Three Medallions"


Ceramic tiles




48" x 36" (122cm x 92cm)







"African Sleeping Mat"


Ceramic tiles




34" x 42" (86cm x 106.5cm)







"IndoMir 1. Sunburst"


Ceramic tiles




32" x 36" (81.5cm x 91.5cm)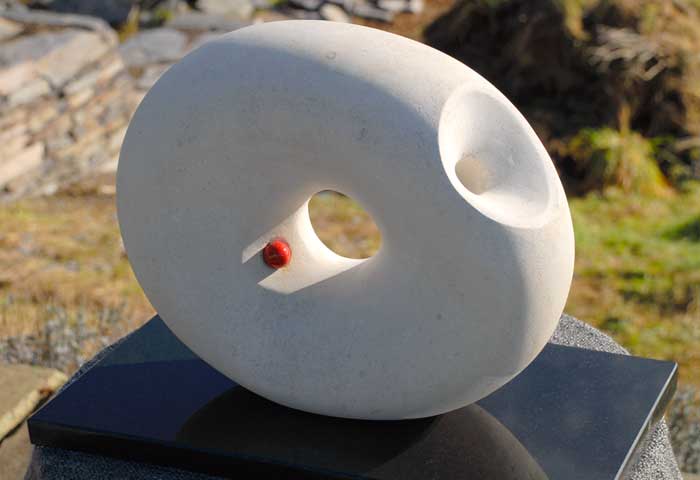 "Piacere" Portland Stone Sculpture 16" x 12" x 9" (41cm x 30cm x 13cm)

Trevor accepts commissions and his work can be seen by appiontment at
The Studio, Lowertown, Schull, Co Cork.
He can be contacted by telephone on 028 27873 and mobile 086 216 7126
and by email t.spalding@ucc.ie

All photographs and illustrations remain copyright of the artist and may not be reproduced in any form without permission